Tulsa Tech Tours show Sand Springs Students Pathways Available to them in the Classroom:
On Wednesday, February 26th, Students at the Central Ninth Grade Center had the opportunity to tour three different Tulsa Technology Center campuses. These campuses included the Sand Springs, Peoria, and Riverside campuses. Each campus allowed the students to explore a variety of technical career options including: Cosmetology, Nursing, Welding, Carpentry, Electronic Control Systems, Law Enforcement, Aviation, Information Technology and many more.
---
Students are shown here learning about Crime Forensics (left) and Nursing Assistance (right)
---
This tour was very impactful on the students because Sand Springs secondary school sites are focused on providing pathways to connect students to success in college and careers after high school through the ICAP, or Individual Career Academic Plan program. This program begins in the 9th grade at the Central Ninth Grade Center. ICAPs will follow each student through middle and high school and evolve to reflect any changes in interests, strengths and growth. They will include interest inventories, written goals, a step-by-step plan to reach those goals, career surveys, academic progress measures and a list of completed apprenticeships, internships or mentorships. Students will be able to create individualized portfolios, utilize high-school planning tools, explore career options and access college campus information with the assistance of parents, school counselors and teachers.
Student tours of the Tulsa Technology Campuses are essential to helping identify interest areas for students and their Individual Career and Academic Plan. Many students sang praises of the tours and could see how they were beneficial to their future studies.
Student Brooklyn Tabor stated that she "liked learning about the EMT program because [she is] interested in finding a career in the medical field. She thought it was cool that high school seniors get internships on ambulances and was shocked [that students] can take college classes for free while in high school. That's helpful!"
Britney Pride, a teacher at CNGC, said that "it was beneficial to expose the freshman to all that Tulsa Tech has to offer free of cost to high school students. It provides a great opportunity for those students who aren't interested in the traditional college route. Tulsa Tech prepares students to jump directly into their career field or university and be successful."
---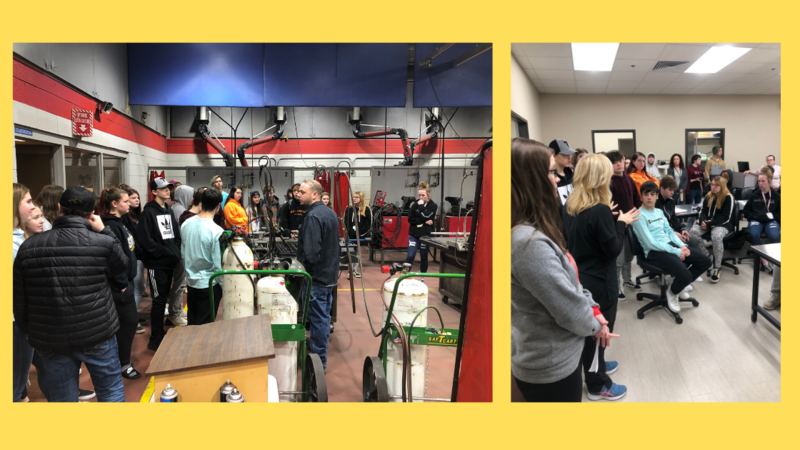 Students are shown here learning about welding (left) and phlebotomy (right)
---
Sand Springs and the Central Ninth Grade Center are working hard to keep their students ready for the workforce and to be responsible citizens. For information on the ICAP program you can view this video: https://www.youtube.com/watch?v=N0VMSG8BneI