The Fitz family received the Sandite Spirit award at Tuesday's Board of Education Meeting. The Fitz's were nominated by Karen Biggs, Limestone Principal. Biggs said, "The Fitz family have been such a blessing to Limestone. They work behind the scenes to support our school. Many of our teachers Donors Choose projects would not be completely funded without the generous donations from the Fitz family. They are a family that we know we could call on at any time to help."

Jay Rotert, Virtual Academy director received the Sandite coin for his work with the Virtual Academy this year. Rotert was presented with the award during Tuesday's Board of Education Meeting. Superintendent Sherry Durkee said of Rotert, "There was an incredible increase in enrollment and he has done a great job!"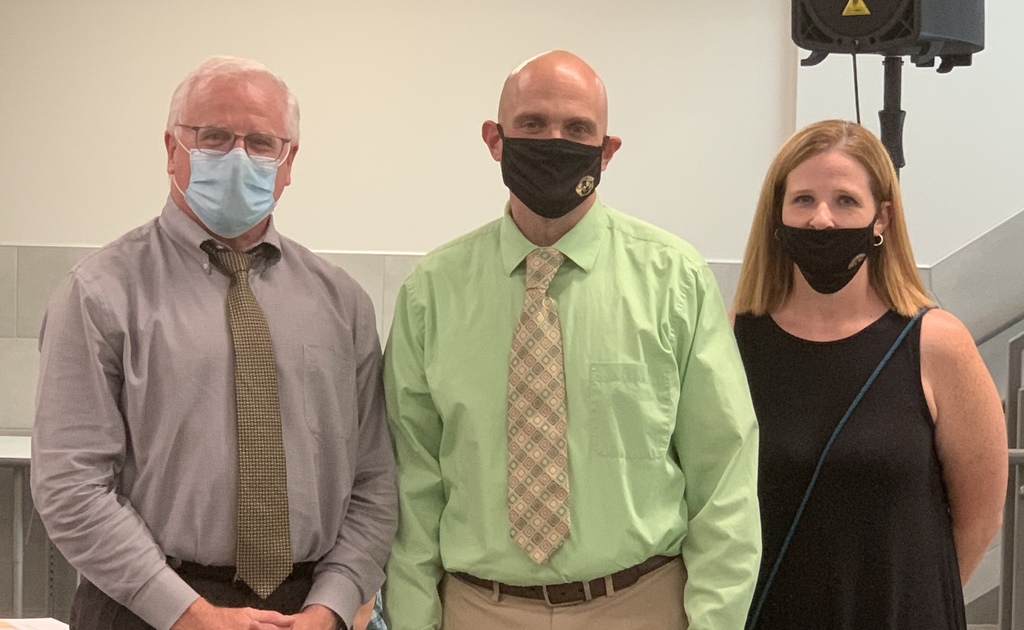 Monday, August 31, we held the ribbon cutting on the new Charles Page High School Freshman Academy and STEM Center! A big thank you to Lt. Governor Matt Pinnell for once again visiting Sand Springs. Thank you to Rep Jadine Nollan and Senator Allison Ikley-Freeman for their continued support of education. Special thanks to so many others in attendance, including Board of Education members, City Council members, Sand Springs Mayor Jim Spoon, Charles Page High School staff, as well as KKT Architects, Inc. and LDKerns Contractors. We also want to extend our thanks and say how proud we are of Sandite Class of 2020 graduate Nicolas Hancock. Nicolas went to work with LDKerns Contractors back in February through the ICAP (Individual Career Academics Program). It was a fantastic morning, thank you to everyone who showed up! Go Sandites! #BESandite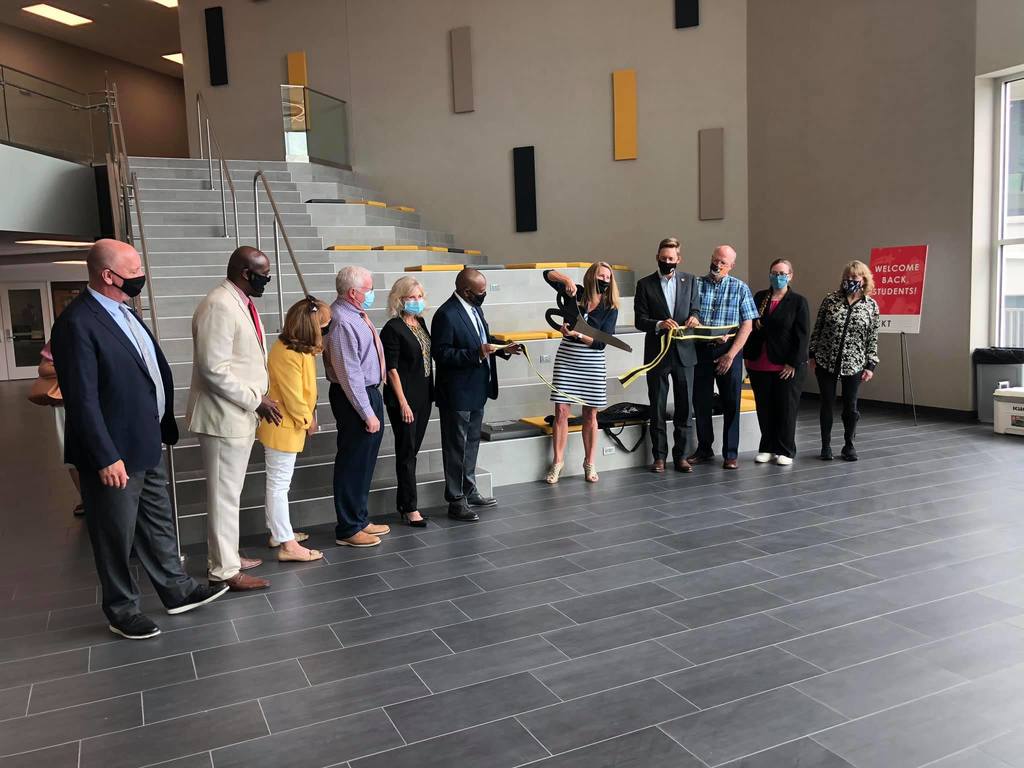 HAPPY FRIDAY!!! Parents: Please don't forget today is EARLY RELEASE Friday! Parents & guardians of Elementary students, remember your student will be at the bus stop 30mins earlier today ~ Thank you for your help and have a great weekend! The Transportation Department
Please review the following statements from Superintendent Sherry Durkee regarding a proposed change to back to school -
http://bit.ly/31FPTX7

Do you need to fill out a Free and Reduced Meal Application for the 2020-2021 school year? Check out MySchoolApps to do the entire application online! Save the trees!
https://www.myschoolapps.com/Application

It's time for CPHS Sandite Boys Basketball Tryouts!!!! Who?: Grades 10-12 boys Date: August 5th & 6th Time: 5:00PM Location: Ed Dubie Field House


On Tuesday evening, July 14, district leaders presented a draft of the COVID-19 Plan for Re-entry for the 2020-21 school year. You can read the entire draft here:
https://core-docs.s3.amazonaws.com/…/DRAFT_Sand_Springs_Pub…
Please note that this document is a working draft. District leaders are going back to the committee next week to review the document again, with a point of discussion on face coverings. Please send all site specific questions to the site principal. Their email address can be found at
https://www.sandites.org
. Or if you know their name, all Sand Springs Public School employees email addresses use the following template:
firstname.lastname@sandites.org
.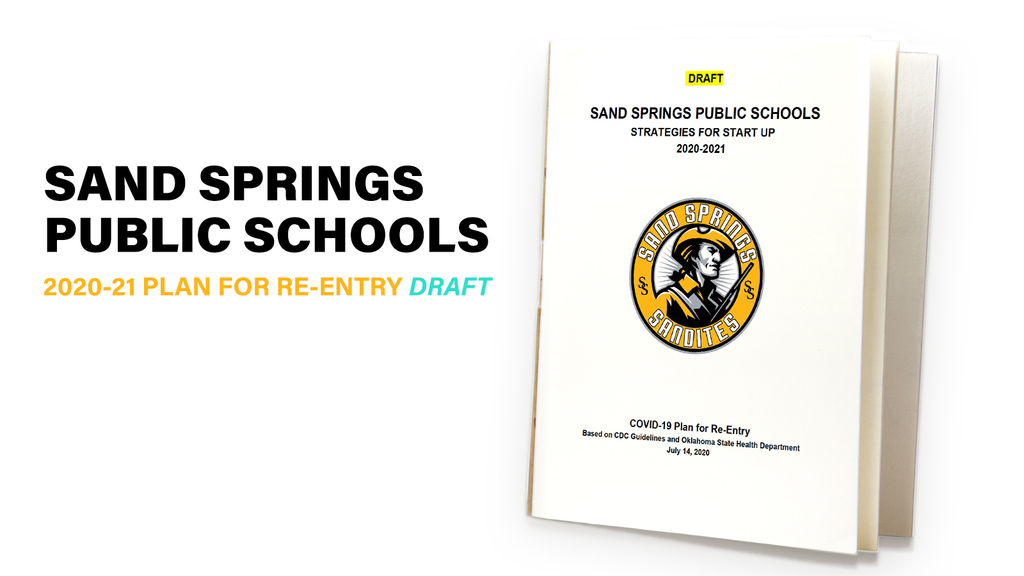 Don't forget to join us tonight for our weekly conversation between district leaders and the community on YouTube Live. Tonight we will focus on the ECEC. Please bring your questions, district leaders will be answering them live. #BESandite

Don't forget, tonight we are kicking off a weekly conversation between district leaders and the community on YouTube Live. Tonight we will focus on communication and ways you can stay informed. Please bring your questions, district leaders will be answering them live. #BESandite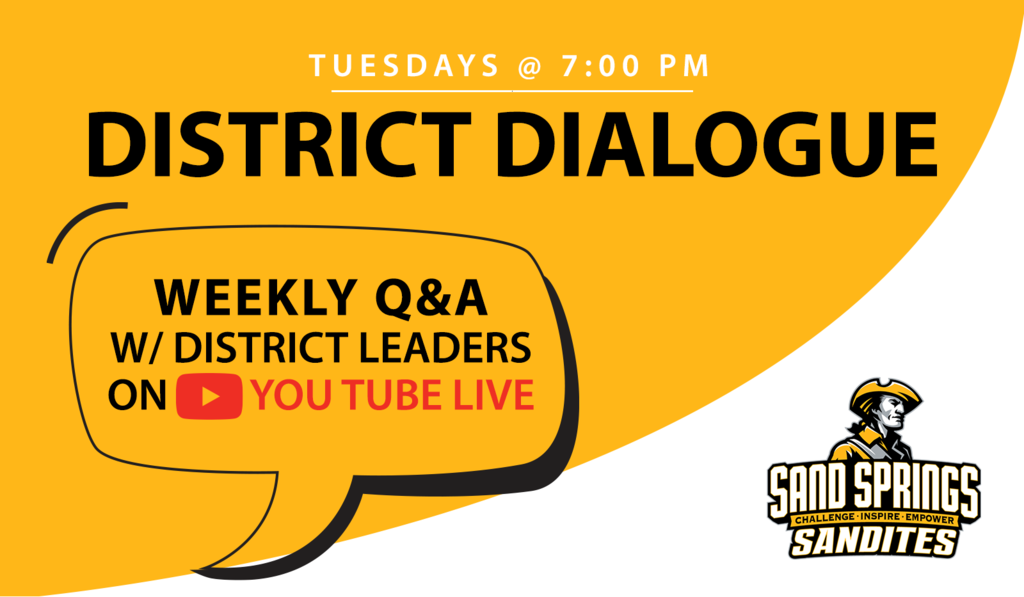 It is now apparent that holding a traditional graduation ceremony with thousands of people in attendance would run counter to the best advice of national, state and local health officials. Therefore, after great consideration and a full discussion with the Board of Education at the Monday evening meeting, we have made the decision to move our graduation ceremony to Memorial Stadium on the campus of Charles Page High School on Saturday June 27. Seniors will graduate in small groups of 50 or less, with each graduate allowed to invite 4 guests. Guests will sit on the home (west) side of the stadium with family groups spaced apart according to health regulations. The times for the group ceremonies will be determined by the number of graduates who plan to attend and will be announced after we survey the Class of 2020 for their commitment to participate. We will distribute this survey to seniors by email later today.

Sandite Athletics is beginning to phase back into a modified summer schedule. As of now, our goal is to begin school this fall, in-person, following our 2020-21 school calendar. We are working on plans to implement new safety procedures at all school sites compliant with the CDC and Oklahoma State Department of Health guidance. The health of our students and staff is our top priority. We appreciate your patience as we learn to navigate this situation. We will notify you as we know more. #SanditesTogether #BESandite

UPDATED 5/22/20 Effective Tuesday, May 26, Sand Springs Public Schools will offer FREE meals available through June 26 (Monday through Friday), at the following sites only: » Garfield Steam Academy / 11:00 am-12:30 pm » Clyde Boyd Middle School / 11:00 am-12:30 pm

We have some exciting news, our very own Superintendent, Mrs. Sherry Durkee was named the 2020 OASA District 5 Superintendent of the Year!
Sand Springs Public Schools would appreciate parent feedback on the Distance Learning program this spring during the COVID-19 crisis. Please take the time to click the link below to complete the survey and help us improve.
https://www.surveymonkey.com/r/VKVPLH5
Due to technical difficulties, the special board meeting tonight is canceled. The board will meet at its regular meeting scheduled for Monday, April 13, 2020.